Carlo Luna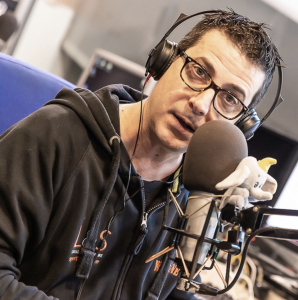 Classe 1970, nel 1989 inizia la sua avventura nel mondo delle radio calcando i campi di calcio come radiocronista sportivo.
Poco alla volta e grazie alla sua passione per i vinili e le discoteche inizia a condurre programmi musicali.
Nel 2003 approda a Pordenone nella Ex Tpn Hit Energy dove con Renato The Emmitence realizza e conduce il programma dedicato alla dance anni 90' "90Tpn".
Da li il percorso accanto al direttore è stato lastricato di programmi e successi, su tutti il "Bar Luna" programma dove la parola d'ordine era RIDERE e al suo interno ruotavano TUTTI gli speaker della radio, il percorso radiofonico lo portano anche a Wideline con il programma "Wide Story", andato in onda la domenica mattina dalle 10.00 alle 12.00 dove a far da padrone è la musica del passato con un bacino musicale che andava dal 1970 al 1999 con qualche dovuta  eccezione e nelle due ultime stagioni accanto a Stefano Risi altra voce storica della radio pordenonese.
Da agosto 2022 diventa programmatore della Radio "LT2" collaborando con Renato The Emmitence e da settembre, sempre come programmatore, gestisce la fascia oraria 15.00 – 18.00 con il ritorno dello storico programma "90Tpn"
Non vi resta che collegarvi e …. BALLARE!!!
Wide Story
In onda la Domenica

dalle 10.00 alle 12.00